From April 18th to 21st 2023, Secretary of the CPC committee of FLTRP Group, Chair of the Board of FLTRP Group, President of FLTRP Ms Wang Fang led a delegation to attend the 2023 London Book Fair. This was FLTRP's first overseas visit to an international book fair since the outbreak of the pandemic in early 2020. At the "Reading China" booth, FLTRP has exhibited 30 selected books covering categories such as China-theme, humanities and social sciences, Chinese language teaching and children's books, including the English version of Understanding Xi Jinping's Educational Philosophy in particular, which was jointly published by FLTRP and Higher Education Press.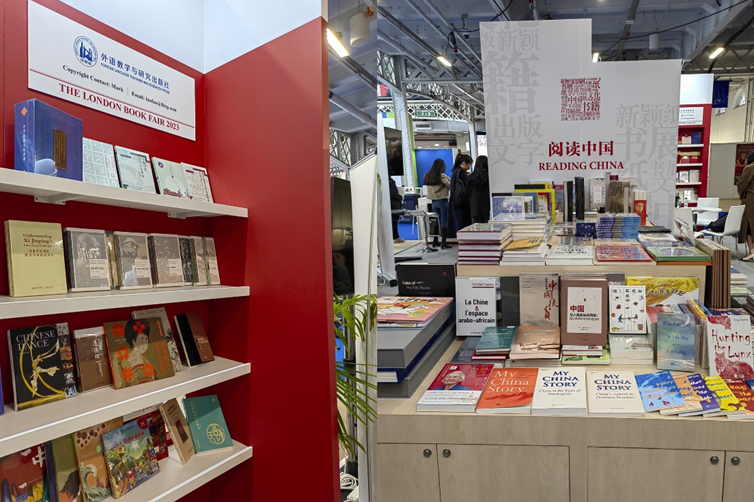 Reading China Stand and FLTRP exhibition shelf
During the Book Fair, FLTRP had meetings with the senior executives of a number of partners including Taylor & Francis Group, Klett Publishing Group, Cambridge University Press & Assessment and Macmillan Education.

Meeting with Taylor & Francis Group (left photo) and Klett Publishing Group (right photo)
On April 19th, the FLTRP delegation had a meeting with Francesca Woodward, Global Managing Director of English, Cambridge University Press & Assessment, and Paul Colbert, Deputy Managing Director and Commercial Director of English, Cambridge University Press & Assessment. Ms Wang Fang introduced the latest ELT trends in China and the market performance of the co-published products of both parties. Both sides expressed their commitment to meeting the needs of English learners in China through the localization and digitalization of products. During the meeting with Emma Bourne, Managing Director, Curriculum of Macmillan Education, Ms Wang Fang introduced the business strategy of FLTRP and the English textbook market for basic education in China. Both sides said that they would continue to promote the "New Standard English" project and other areas of cooperation. On the same day, Ms Wang Fang also met with Jeremy North, Managing Director, Books, Taylor & Francis Group, and ANG Eng Guan, Managing Director, China, Taylor & Francis Group, and had in-depth exchanges of views on China-themed and foreign language academic books. Both sides agreed to fully leverage their respective resources in the academic publishing to co-publish a series of academic products.

Meeting with Cambridge University Press & Assessment
The FLTRP delegation also had fruitful discussions with other international partners such as Oxford University Press and Nosy Crow.

Meeting with Oxford University Press(left photo) and Nosy Crow(right photo)
During the trip of UK, Ms Wang Fang visited Ms Julia Alexander, wife of Mr Louis Alexander, the author of New Concept English. As a well-known language teaching expert, Julia Alexander assisted Louis Alexander in publishing multiple works such as New Concept English and Longman English Grammar, and she is also the author of Junior New Concept English. Ms Wang Fang told Ms Julia Alexander that New Concept English (Smart edition) released last year in line with the trend of paper and digital integration had won great acclaim among learners. FLTRP will also develop the smart version of Junior New Concept English to inject more vitality into this classic product.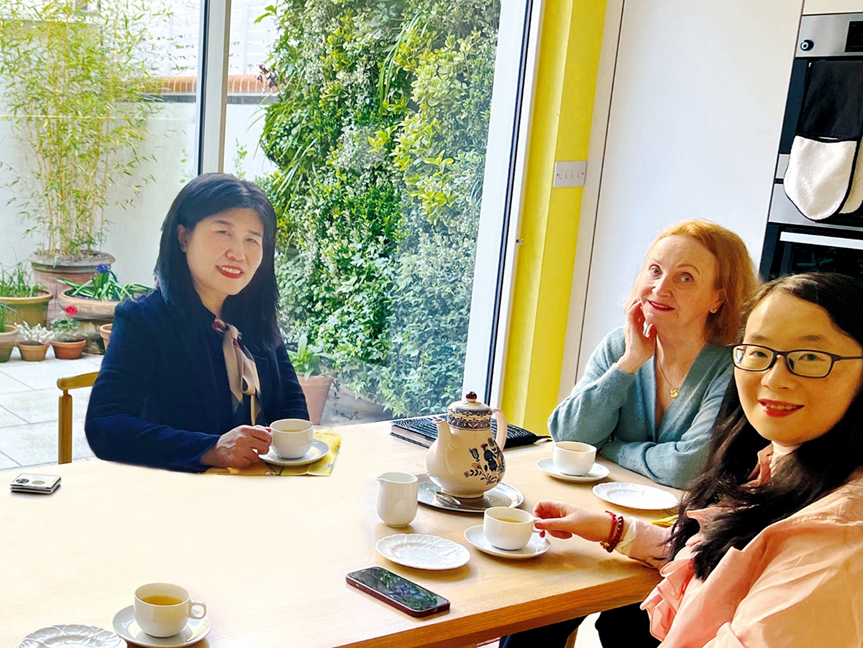 FLTRP visiting Ms Julia Alexander